DIA 1 – Ensenada –> San Diego –> Las Vegas
DIA 2 – Las Vegas –> Hoover Dam –> Flagstaff
Hasta que no acaben la variante para evitar pasar por encima de la presa Hoover, calcula una hora de cola para ir o venir.
La carretera por Arizona es preciosa: desierto, cielo.
Flagstaff es una ciudad aburridísima, pero es la que mejor acceso tiene a Grand Canyon y la oferta hotelera más grande. El hotel dónde acabamos era un desastre.
DIA 3 – Flagstaff –> Grand Canyon
Desayunar un buen filete y unas costillas de cerdo a la parrilla y al Cañón! La primera impresión al ver el cañón es increíble. Profundo, ancho… magnífico.
Dormimos en un hotel en el mismo parque natural, en medio de la naturaleza. En el hotel y restaurante se respiraba aire de Junior Rangers y unidad excursionista.
Era el Thanksgiving Day y me zampé para cenar el menú tradicional de la fecha: pavo relleno con salsa de carne y mermelada. Todo en bandeja reciclable de self-service.
DIA 4 – Grand Canyon –> Las Vegas
El cañón con las vistas matutinas y camino a las Vegas cruzando el desierto de Arizona (Dolan Springs). Carretera rectísima por el desierto con alguna que otra sorpresa como la única tienda que hay, en Chloride.
DIA 5 – Las Vegas
Visita del Strip por el día. Increíble The Venetian, con la réplica de los canales y calles de Venecia en el interior de un edificio.
Cumpleaños de Stefan y desayuno/comida en el Food First. Por la noche, el show de "Penn & Teller" en el Hotel-Casino Rio.
DIA 6 – Las Vegas –> Los Angeles
Visita de "Paris", "New-York, New-York", "Pharaoh".
Colas para llegar a LA. (7h de viaje!). Noche en el Cecil hotel, un clásico en Downtown LA. La de historias que habrán pasado entre sus paredes.
DIA 7 – Los Angeles
Hollywood Blvd, el teatro chino Grauman, Kodak Theatre,…
Vuelta en coche por Mulholland Dr (muy recomendable) y paseo por el parque Runyon Canyon, dónde los famosos van a hacer jogging. No pudimos entrar en el show de Craig Ferguson en CBS, pero fuimos el día siguiente.
Visita al campus de UCLA y café en Anderson BS. Cena en Grand Lux Cafe de L.A., muy recomendable (ahora veo que es una cadena con más sucursales por USA).
DIA 8 – Los Angeles
The Getty Center: impresionante colección y grandiosa arquitectura.
La primera vez que veo colibris alimentándose en flores.
"The Late Late Night Show with Craig Ferguson" en la CBS. Muchas risas. Fue divertido ver por la TV el show por la noche (no sale el público!!)
DIA 9 – Los Angeles –> San Diego –> Ensenada
Último desayuno en Denny's (como no)
The Getty Villa (Malibu) es una impresionante casa/museo inspirado en una villa romana. Lujo made in USA.

Santa Monica es el final de nuestro viaje y el final del la Ruta 66 ('Get your kicks on Route 66') de la cual hicimos un tramo (Flagstaff, Arizona, Barstow, San Bernardino, Santa Monica).
El 'cirque du soleil' (como no) tenia una carpa montada para su espectáculo Kooza.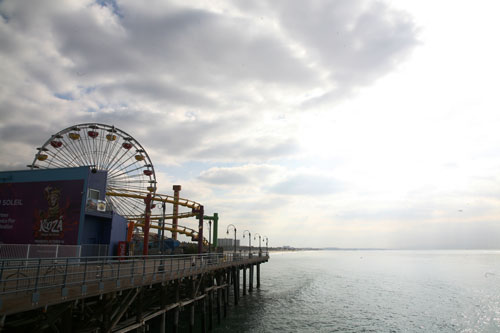 Flagstaff, Arizona, don't forget Winona,
Kingsman, Barstow, San Bernardino.
Well you get hip to this timely tip
When you make that California trip.
Get your kicks on route sixty-six.
Bobby Troup (1946)

Vistas desde Runyon Canyon (Mulholland Dr)

De Flagstaff al Grand Canyon

Carretera por Arizona (Dolan Springs)

Parada de emergencia en Arizona